On-page SEO Checklist – Outstanding Steps to Success In 2023
Have you ever experienced an improvement in your Search ranking without making any significant changes? Google could be at work in this. This complete guide to on-page SEO will explain what it is and what SEO strategies will be effective in 2023. In the world of search engine optimization that's consistently evolving, you should be done with your On-page SEO and update it as necessary. Here we explore simple ways of On-page SEO with the help of an SEO checklist, which provides all the well-optimized needy steps for making your On-page update. On-page SEO has the potential to bring abounding new visitors/customers right to your website.
Checklists simplify the process of organising tasks and determining whether they have been completed. To make your website SEO-friendly, you must optimize several on-page factors. If you didn't have any on-page changes in your web pages, it could be difficult for your website to boost traffic. Therefore, it is a great practice to follow and use an SEO checklist for your on-page as a reference. With great convenience, we have provided a list of On-page SEO for best practices.
Do's for On-Page SEO:
1) Update Title, URL, & Meta Tag –
Title – The title of your page is the most vital factor in on-page SEO, so you must include the targeted keyword in the title of your webpage that contains 55-60 characters with spaces. The title must be attractive & unique, and make it an actual phrase to uplift your thorough page value.
URL – When optimizing URLs, one should strive to keep them concise and start with keywords. Strategically including keywords in a URL can help a website rank for queries that contain such words.
Meta Tag – Meta tags can drive visitors to a website, so they should be engaging and include user-friendly content. You should not use it with more than 160 characters and add other keywords.
2) Develop SEO Content –
Original content! An on-page SEO checklist will not be complete without it. Content must be relevant, interrelating & make quick engagement with visuals. Offers useful resources like whitepapers, guides, or e-books to lower the bounce rate. The content of the webpage should preferably be focused on a single keyword. It is best to create separate pages with content specifically tailored for every keyword you are targeting. Using relevant keywords makes the webpage SEO-friendly and can be recognized easily. It ensures that content is written such that a range of target audiences may read it.
3) External Linking –
Essentially, search engines like organic content and organic content frequently link to other types of content, particularly authorized websites. You can refer to well-known, frequently ranked websites like Word Press, Yahoo, CNN, and even Google when you use the term "authority sites." Adding at least one external link should lead to a reliable, third-party website as external links have a positive effect on search engine rankings.
4) Keyword Density –
The ability to interpret the content of a page is easily achieved by keyword density for both search engines and website visitors. The most important element on this checklist is keyword density, especially considering the recent updates to the Google algorithm. Therefore, you want to achieve a keyword density of between 1.5 and 2%. The keyword density scale, expressed as a percentage, indicates how frequently your keywords appear in your content. For example, if you want to optimize this blog for the keyword "on-page SEO checklist," your keyword density should be max. 2% if the blog has 1,000 words long, you can use the phrase 20 times.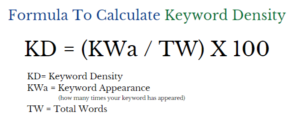 5) Image Optimization with Alt Text –
Many people overlook this step in the on-page SEO checklist, but it's simple to complete. Image optimization plays an important role in SEO. Due to the size and weight of the images, your pages may load slowly. With the most recent Google Panda update, the total number of visits has proven to be a major ranking factor. When you upload a well-optimized image with an alternative text, it's essential for on-page SEO because it makes the image load quickly in SERP. With proper Image optimization, you can achieve valuable SEO assets.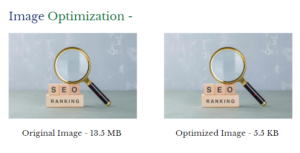 6) Mobile Friendliness Design –
We can see more than 60% of internet users come from mobile devices and the remaining 2.4% use tablets. Google has started to prioritize responsive websites in mobile search results. By using a responsive website design you can make sure that users can find your website on any device. There are some key benefits of responsive design webpage has a lower bounce rate, saves money spent on mobile development, your page will rank on all devices & there is no need to design for multiple webpages.
7) Page/Site Loading Speed –
The amount of time it takes for content to load on a specific webpage is measured as page speed. Ideally, the page should be displayed within 0-2 sec on SERP to get the highest conversion rates. Do you want to keep your webpage in the top position, you must have a quick page load time. There are a few valuable factors for reducing page speed, such as enabling compression, putting well-optimized images, giving essential redirects, & manipulating browser caches. Use the page speed insight tool to check your webpage load time. As shown in the image: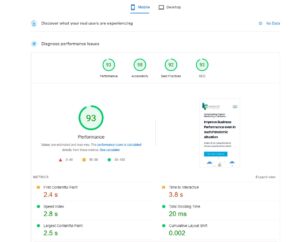 Page Speed Test Report
8) Get a Site Map –
A website with interconnected pages is highly ranked on SERPs by Google! Even though it has nothing to do with optimising the page you're working on, here we include it in the checklist because it will boost SEO for all of your pages. It makes it easier for the search engine to find all of your pages, which leads to more of them being indexed (included) in the search engine results.